Welcome to
Great Park Homecare
We're an award-winning, independent family-run company providing home care in Windsor & beyond.  We have over twenty-five years of experience delivering professional, bespoke and best-in-class home care services.
Trusted home care in Windsor & beyond
Our carefully selected, English-speaking staff deliver home care services and care visits which are discreet, compassionate, fully regulated and based on our clients' requirements and preferences.  We provide the luxury of time and reassurance, adding much needed value to our clients wishing to continue living independently and happily in their familiar home surroundings.
Our caregiving services include personal specialist care and support, companionship, household help and live-in care. We also offer personal dementia care, and support and specialist care for adults with learning disabilities.
With a "Good" rating from the Care Quality Commission and a desire for our clients to lead happy, fulfilled and independent lives, we offer peace of mind for families around the UK and across the world with loved ones in Windsor, Ascot and beyond.
We provide home care in Windsor, Ascot & the surrounding areas detailed below & on the map. If you're not sure if we cover your area, please do get in touch & we will let you know.
Ascot, Binfield, Bray, Datchet, Dorney, Englefield Green, Eton, Eton Wick, Great Park, Holyport, Maidenhead, Old Windsor, Sunningdale, Sunninghill, Virginia Water, Warfield, Winkfield, Windsor, Wraysbury.
Delivering peace of mind
Speak to us and you'll quickly see that we are not like a care agency.  Our reputation for being a 'cut above the rest' comes from our belief in and commitment to going the extra mile to deliver premium trusted and safe services to delight our clients. Similarly, we are committed to investing in and supporting our dedicated staff to grow and excel as professionals.
Founded on personal experience and empathy, we are a company with a conscience that cares about our clients as if they are our own family.  We create a unique and bespoke Care Plan, individual to each and every client.
Guided by our ethical and moral standards, we work closely with loved ones. When required, we partner with external healthcare professionals to shape and provide our high quality, personal care and support services, within a carefully designed care package.
We strive for continuity of care at all times so clients can rest assured that all our home carers offer the same sterling levels of professional care and that they are trained to the same high professional standards.  We'll do anything we can to help you maintain your  independence at home.
We never use care agency staff. Instead, we have our own dedicated team of expert carers whom we recruit, rigorously train and develop. We match each carer to our clients' preferences. Our Management and Care Management Team excel in monitoring our exacting levels of service as well as building close and trusting relationships with both clients and staff.
Our steps to quality home care
We Listen.
You want to make sure you choose the best care possible for yourself or your loved one.
If requested, our  experienced and qualified Registered Care Manager will visit you at home on a no-obligation basis at your convenience.  She listens carefully and explores with you what support you would feel comfortable receiving in your home.  If it isn't right for you, it isn't right for us.
You'll always be in safe hands.
We Understand.
You're looking for personalised care which reflects your preferences & requirements.
Our carefully created, bespoke Care Plans are designed to reflect your exact wishes & are offered on a 'flexible care' basis. We do not have any 'hidden fees' that will come as a surprise at any point.  As a Company, we firmly value 'integrity', something which sets us apart.
We appreciate how important it is to provide a transparent & flexible service for clients, to match their changing needs.
You'll get the great care you want.
We Care.
You're looking for discreet, compassionate & first-class care. Our fully trained and competent staff  deliver exactly that.
For additional peace of mind, we use state-of-the-art monitoring technology to constantly regulate, monitor and communicate with clients and staff, give real-time updates. This enables our Care Team to respond efficiently and swiftly to any clients changing needs. Friends and families, however far away, can stay reassured that their loved one is in great, safe hands. 
You'll be happy you chose us and joined our caring family.
We offer a range of professionally delivered services
Thank you so much … for all you have done, you have a great team & lead a tight ship.
My husband really enjoys the visits from the first class carers. They have always been so caring and reliable and we both can't thank them enough. I always tell people that [they] are the best.
They provided a level of care beyond my expectation and where nothing was too much trouble. They have provided an outstanding level of care which has enabled mum to remain at home for as long as possible and maintain her dignity and quality of life.
Schedule a call with us
For more information on our home care in Windsor & beyond and our prices, please get in touch via our online form and we'll get back to you within 24hrs. If you'd prefer to talk to someone now then please call us on +44 (0) 1753 369088.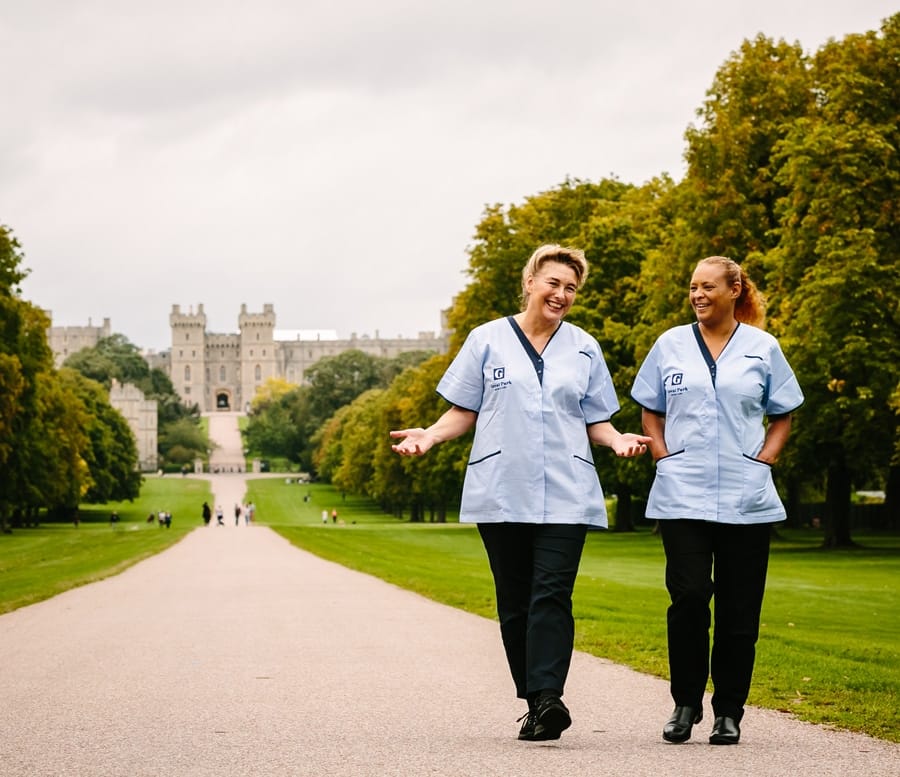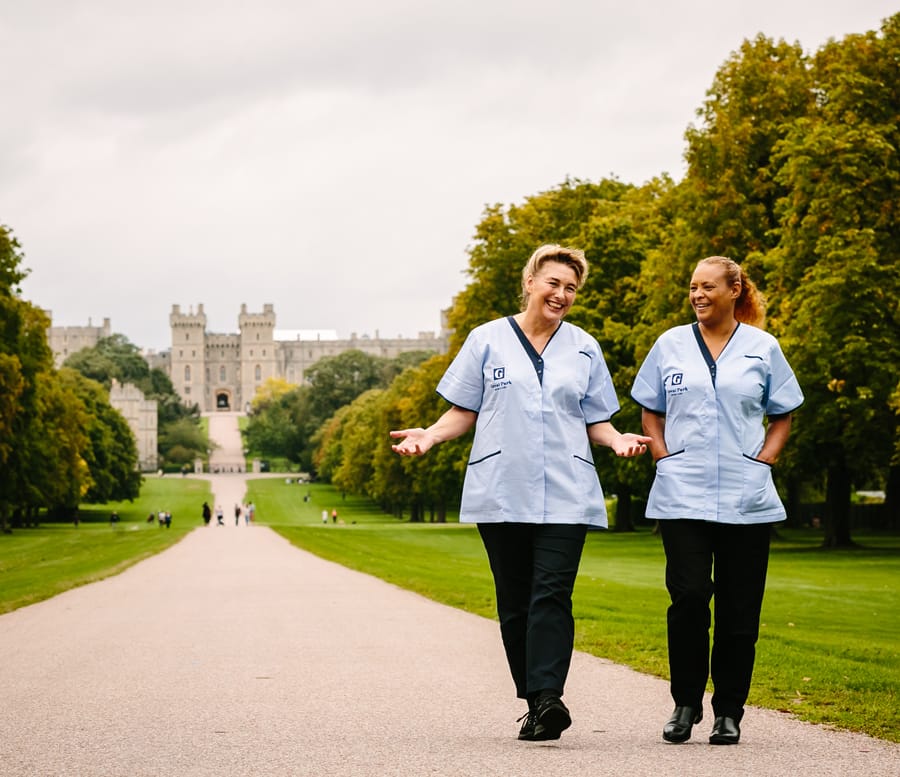 Flexible Care Service
We're here for you when you need us. If you want to miss a visit or cancel our services we just need 24 hours' notice.  You won't have to commit to any length of service, so you get the care that you choose, tailored to your wishes, when you want it.
Free Home Care Advisory Service
Just starting your research into home care?
If you are confused about the many care & funding options available, or anything else, let us help you demystify and clarify it all.
Simply book a free phone appointment and we'll be here to help guide you through it.
We're proud of our Care Quality Commission CQC Inspection Report
The latest Report noted our 'safe', 'caring' and 'well led' services which ensure our clients' are 'protected from abuse and neglect' and that their 'privacy and dignity [is] respected and maintained'.
We value feedback. In our latest pre-inspection Client Survey, 100% of the responders said that our care workers are caring & kind.
"We can't fault the care given; it's excellent." "They understand my likes & dislikes" & "Very respectable, never embarrassing."
Our standards are as high as our care levels
We hold ourselves to high standards & pride ourselves on the way we engage with clients, families & the wider community.
As such, we're members of the UK Home Care Association and Federation of Small Businesses so we can effectively keep updated with and adhere to governance and regulations.
We're practical & proactive
Each client's care needs are reviewed using real-time monitoring technology as well as regular face- to-face Review Meetings.
We call every client regularly to check they are happy with their care.
Can you make a difference?
We are recruiting outstanding Home Carers who enjoy driving, care with compassion & will go the extra mile for their  clients.  No prior experience is needed as we provide full training and support. We invest heavily in our staff welfare and development. Many staff have been supported by Management to successfully achieve further  qualifications as they climb our career ladder.  We are proud to offer opportunities for all staff to develop themselves professionally whilst enjoying a secure and rewarding career with us. We care. If you care, come care with us. Click on 'Work For Us' below to discover why.
Management are very kind and helpful, and very approachable.

- Home Carer, Annual Staff Survey 2019
'All clients have exclusive access to our Trusted Partner Network for peace of mind to further manage their house, finance and wellbeing' As our loved ones age, ensuring their well-being and comfort becomes a top priority. Many seniors wish to continue living...
read more