Work for our award-winning home care company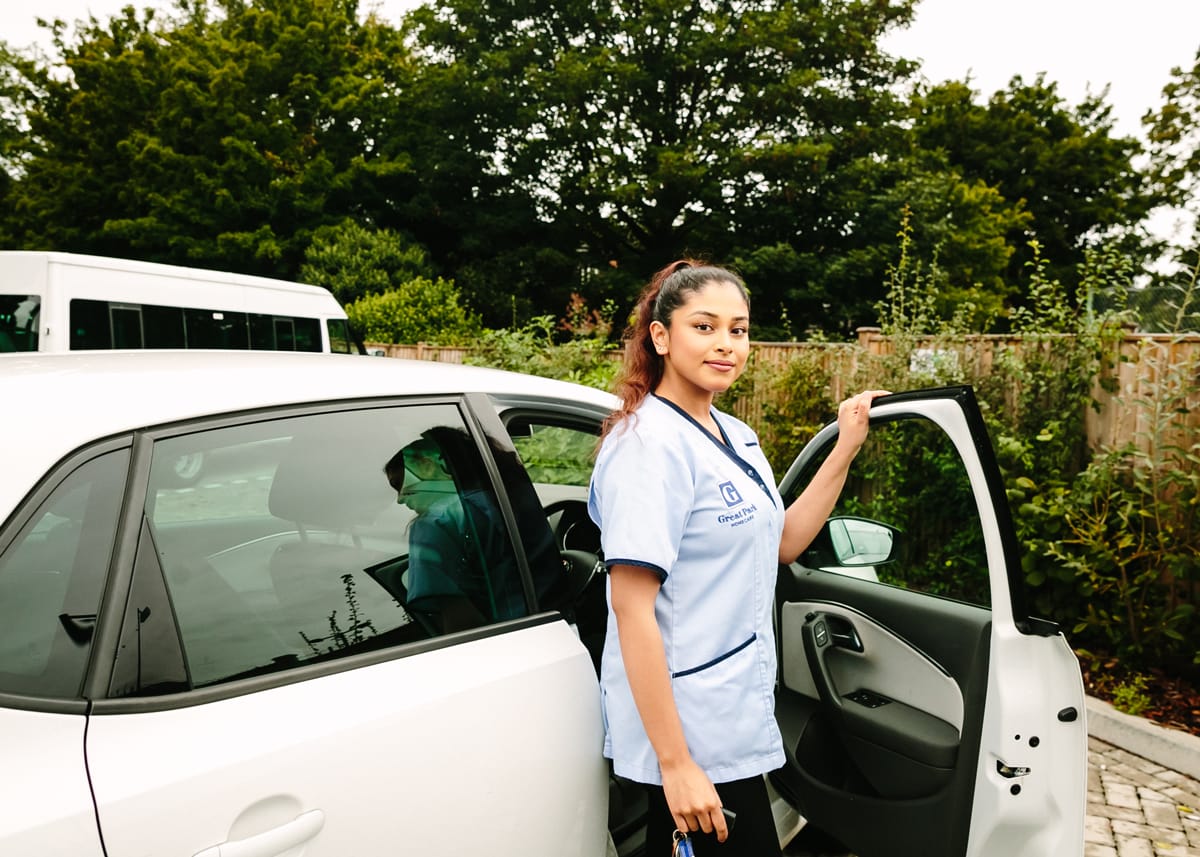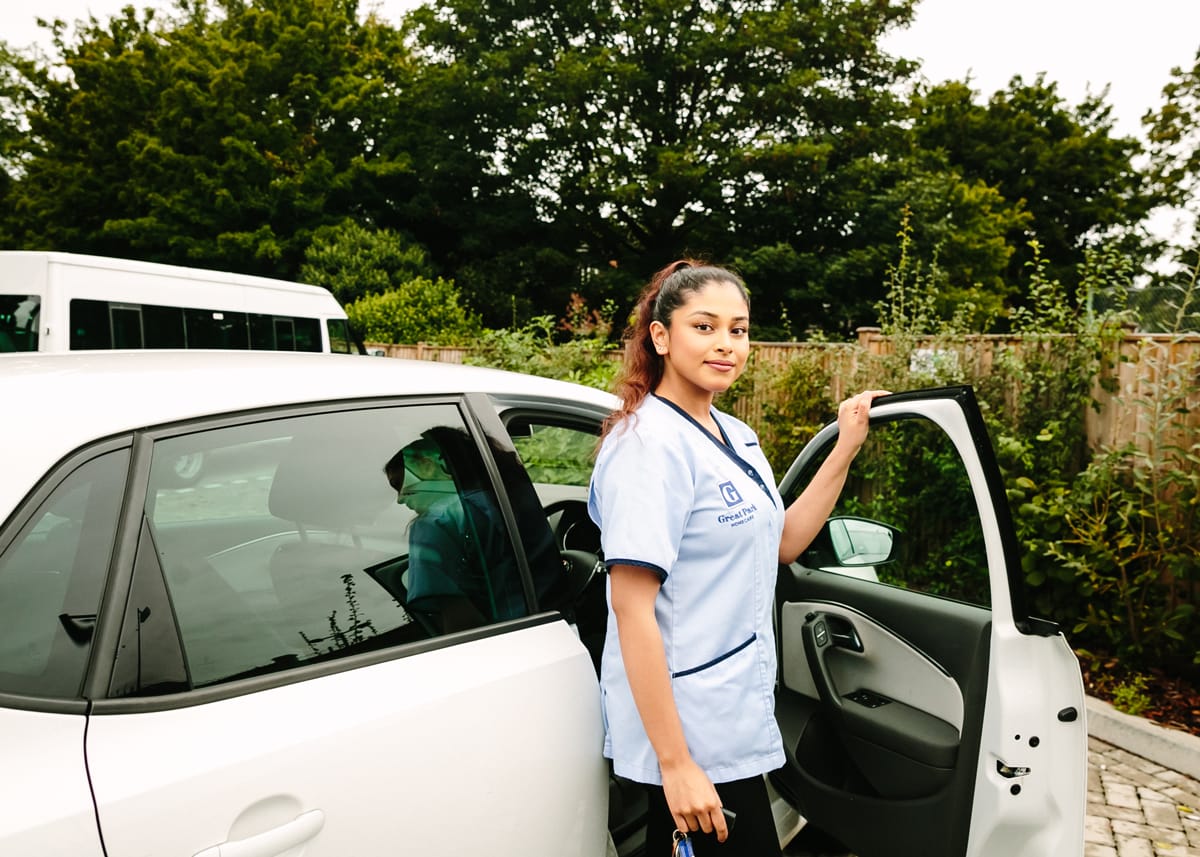 'We are a high-quality care company owned & run by husband & wife team Romola & Adrian who met whilst volunteering locally for Mencap.
They founded their home care company since their own loved ones had sadly not experienced the high quality & trusted care they deserved or was expected. By understanding clients' needs they are able to provide much needed premium home care services for adults of all ages & conditions.
In fact, the company's in-home care services are so well reputed to not only deliver peace of mind for clients and their families, but also as a local 'employer of choice'.    
We're kind and honest people to work with. We're not like any other care provider or care agency.  Investing in staff qualifications and careers, the Company has created a culture of respect and camaraderie amongst like-minded staff who are all compassionate & caring people.
Why you should work for us
 With our belief in ensuring a fair wage for a fair day's work, we are proud to be an accredited Living Wage Employer, offering great benefits and working conditions.  We care greatly about each of our employees as a name, not a number… more than we do about making as much profit as possible.  Driven by our Directors' personal values, for us we're about people before profit.  Just ask our staff.
That's why we  believe in investing in our staff and offer great rates of pay and benefits (including pension, mileage, mobile phone allowance, uniform, paid training and continued professional development and apprenticeships).
In return for staff professionalism, reliability and a go-getting attitude, we care for & fully support staff to excel, grow and develop their roles and a promising career with us. Whether you deliver care alone or with other staff, you can rely on our support from our very approachable Management, Care Management Team or On Call service.  Staff are protected through use of monitoring technology, a Lone Worker Policy and Employee Assistance Programme.  
We keep our great, close-knit team connected to each other by holding regular fun, virtual Team Hugs and Staff Meetings. Together, we enjoy celebrating staff birthdays, passing exams, any compliments received, Above & Beyond awards as well as just being part of our great 'family'. Our Summer and Christmas social events are legendary for rewarding everyone's commitment and hard work.
You can become a fully trained Home Carer  with us, whether full-time, part-time. Just evenings or just weekends – whatever suits you.  No experience is needed, as long as you love driving, have access to a car, display common sense, can communicate in good written and spoken English and have a genuinely honest and caring heart to make someone smile by chatting, dancing or helping them live independently. If you have an interest in forging a 'future-proof' career, we'd love to hear from you. Contact us to find out more about why staff choose to work and stay with us.
Join our trusted family of care staff
We offer many full/part-time roles to care for clients in their own homes.  Our staff find their roles very rewarding and flexible enough to suit a busy lifestyle (N.B. working only during "school hours'  09:00 to 15:00 is not possible). The job & income security plus fun, social networks are other benefits of working for us.
To apply, you will need:
A full driving licence and access to a car (we are not a Care Home)
Business Class 1 Insurance
Shift work availability of 0700–1400 and/or 1700–22:00 plus alternate full weekends for either shift. We can however offer evenings only (1700-22:00 plus alternate weekends) or weekends only (0700-22:00 every weekend).
We provide:
Fully paid onboarding Induction Training & Certification
Excellent 'fair' pay rates tracking the Living Wage Foundation (higher than the National Minimum Wage) for a fair day's work

Payment per shift (rather than visit), plus guaranteed hours offered

High mileage rate with economical, local rotas 
Legitimate work breaks and rostered time off, balancing work-life & wellbeing
Pension Scheme
Paid Training & DBS Check
Friendly 1:1 Management Support
Personal Mentor/Buddy to pass Probation
Career progression & further HSC Apprenticeship qualifications
Employee Assistance Scheme
Employee Referral Scheme
Free Uniform & PPE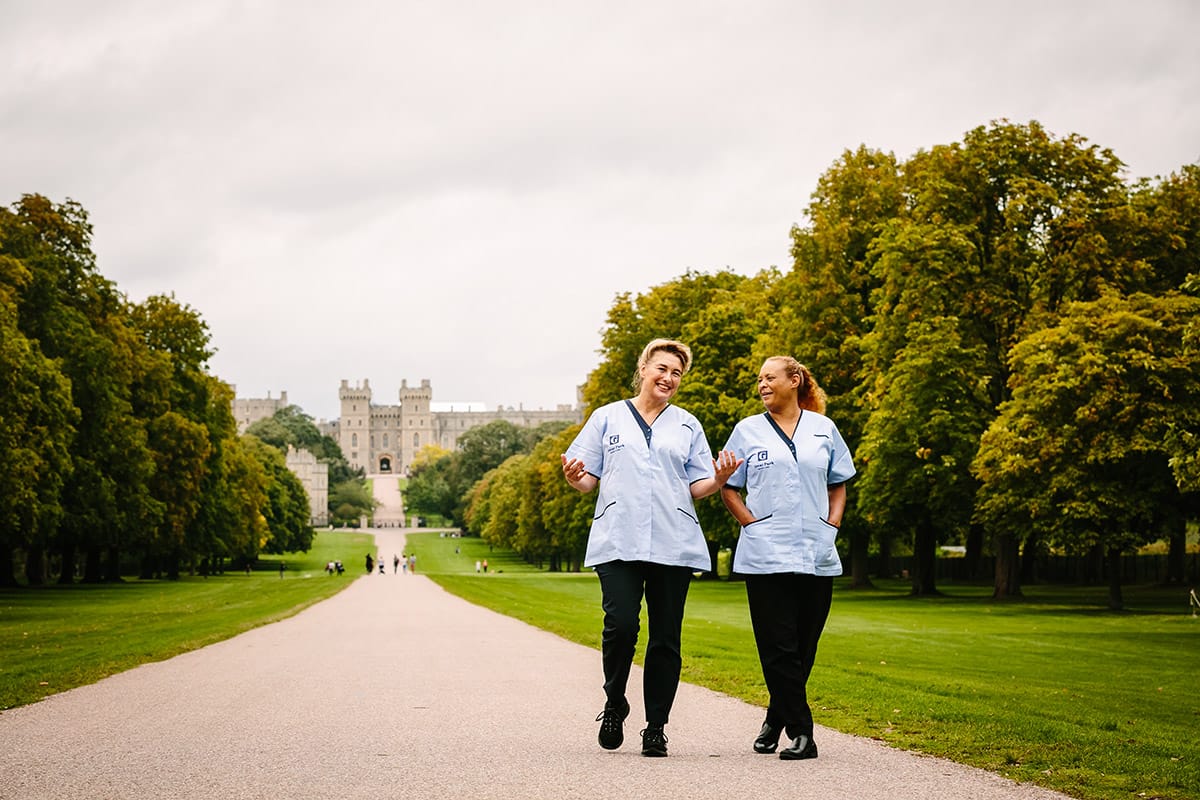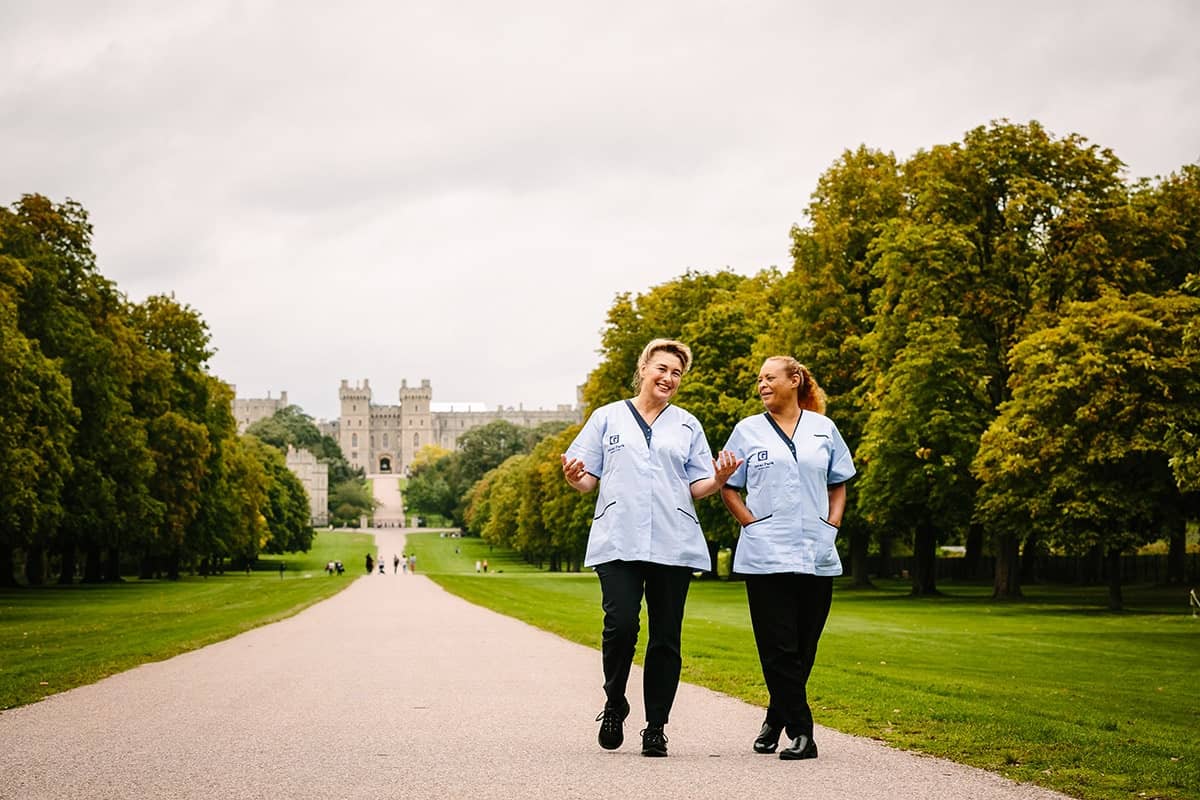 Apply now to care with us
We create care packages for all our clients
Here's how we make sure that we are offering the care our clients want & need.
First of all, our Care Manager visits the home of the person who needs care. She asks a some very important questions, critical to understand in depth about individuals & the specific care they need.
Once the care and support need has been agreed, we give our new client a care plan. This says how often they want to see us & what they'd like us to do for them.
It doesn't matter what type of care our clients need, we always give high standards of care.
What do our carers say?
Our carers have told us that they don't really feel that they are working for a living. Instead, they feel that they spend their time improving people's lives & that we offer care & support while they do so.
"Great Park Homecare is one of the best care companies I have worked for."

"They have a great group of care workers & the management team are always very supportive."

"I feel like I am part of a family."
Other carers have said that until they worked with us, they used to finish their shift & felt upset & unsupported, but with us they feel respected & happy. We operate an 'open door' management policy.
We're proud of our CQC Report
Every year, we are visited & inspected by the Care Quality Commission (CQC). They make sure we maintain the highest standards of care & that we treat carers well too.
Last time, the CQC inspected and rated us as "Good". This time, in our latest pre-inspection survey, 100% of the responders said that our care workers are "caring & kind". If you are caring & kind, you might like to become one of our carers.
We use clever technology
Even though we work in these areas, our clients have families from around the corner & around the world. To make sure that we can all communicate with each other & that we keep care levels high, we use clever technology which means we can all see the care required every day & make sure that nothing gets missed.
We never stop caring!
Care needs can change as clients' get better or develop additional needs.
That's why we make sure we check in on them every so often to make sure their home care service is still giving them what they need.
We also have regular face-to-face review meetings, so we are sure that the service we are offering is perfect for them.
Here's what our clients say about being cared for by us…
"My husband is on end of life programme. Our carers have been not just first-class carers but great friends to myself and my husband, especially with this shutdown. He has survived longer than expected and I know their caring has contributed to this."
"We can't fault the care given; it is excellent."
"They understand my likes & dislikes"
 "Very respectable [&] never embarrassing."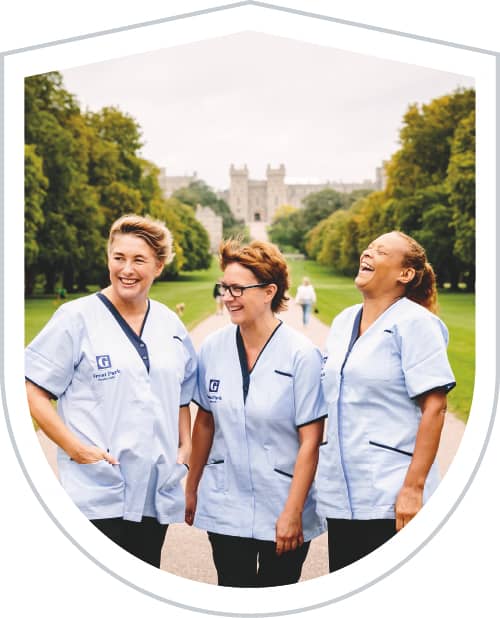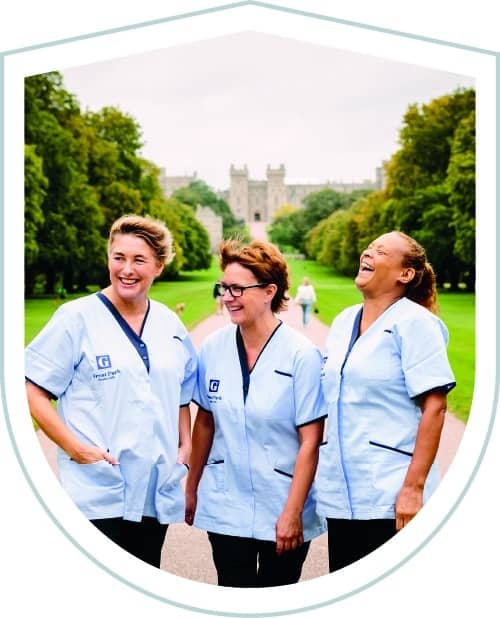 Working with us: home care jobs Windsor
If you've never had a caring job before, don't worry.  We offer full training & we'll even pay you while you do it. You can train to be a Care Worker or join the team as a Care Assistant.
While you're working with us, you'll get free smart, modern uniform, generous company pension scheme, unique 'mileage from home' allowance, phone allowance, Above & Beyond recognition & rewards plus a generous  Employee Referral Scheme.
If you work at weekends or take a call of less than one hour, we will pay you enhanced rates (double-pay on Public Holidays).
"Management are very kind and helpful and very approachable"

– Home Carer, Annual Staff Survey 2019