When thinking about care options for a family member, your first thought may be to investigate residential care or a nursing home.  But is this the right type of care for your loved one? Here are three questions you may like to ponder:
Will they feel happier and safer in a care home than in their own home?
Will they react well to being less independent?
And will moving affect their mental wellbeing?
 What's best for your loved one?
We understand it's vitally important you make the right decision for your loved one and your family circumstances.
As we keep in frequent contact with our clients and they are familiar with us, we know that they're thrilled with the personalised care received from our trusted, dedicated and highly trained staff, all in the comfort of their own home.  They choose home care from Great Park Homecare, over a care home, any day.  They know that their home really is where the heart lies.
That's because all our clients are individuals and treated by us as such.  To this end, we offer many different types of home care services and home health care, depending on each client's requirements and wishes.
As our company was founded on personal experience and empathy, creating the right care plan for each of our clients is key to our service.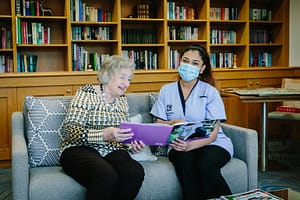 Home is where the heart is
 There are so many benefits to home care. Here are the top five reasons our clients give us for loving the care we give them:
I feel safe in a familiar environment: In a 2014 survey, 97% of people surveyed said they didn't want to go into a care home when they're older (OnePoll, 2014). Most people, given a free choice, would hope to remain in a safe and familiar setting.  This is particularly the case for people living with mild dementia.
According to studies people living with dementia benefit from receiving private care at home. This may be as they are in a place full of memories, photographs and books which stimulate them.
While being cared for at home they were shown to have higher levels of activity, a better quality of life and more social connectedness than people living in care.
Being at home is better for my mental wellbeing: Positive mental wellbeing is boosted while you're surrounded by a lifetime of memorabilia and sentimental personal effects
I appreciate the personalised care: Your carer comes over and you get what you want, when you want it, in your own space.  You feed into your personalised care plan and can make amendments to it as your needs change.
I want to be independent for as long as possible: Use our services and you're in control.  You're empowered in your later years and can be independent for longer.  Independent living is hugely important to our clients, and to many older people.  Long term care that en
ables independent living is one of the main benefits of getting care at home.
I like knowing that my family don't have to worry about me: Our clients and their family and friends know that they're in safe hands. No worry. No stress. Just the best care.
"We were recommended Great Park Homecare three years ago to fill in for one and then two live-in carers for an elderly friend when they had their time off.

The director and his company and wonderful carers performed this task admirably, were flexible according to the needs of the resident carers, and made sure as much as possible to produce the same carers each time so that they could build up a relationship with my friend.

Sadly, she has now died, but we are immensely grateful that they helped to enable my friend to carry on living at home with people we trusted to look after her." – Anne S, friend of client
 The importance of home care for the elderly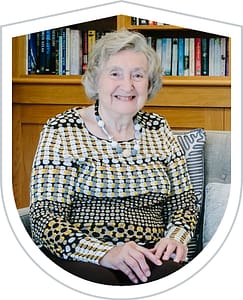 Every day we hear these reasons – and more – that our clients don't wish to leave their homes, and it gladdens our hearts that we can enable them to remain in familiar surroundings and not experience loss of independence.
Our services
We are able to care for people with a wide range of needs, from people who need live-in care to those who want a small amount of additional support and help; for example, getting to social activities.
At Great Park Homecare we offer the following services:
Do we serve your area?
Areas we serve are Windsor, Old Windsor, Ascot and surrounding areas including Bray, Datchet, Dorney, Englefield Green, Eton, Eton Wick, Great Park, Winkfield and Windsor.
Would you like to find out more?
If you would like to find out more about our home care services or benefit from our Free Home Care Advisory Service, please click here to contact us.