Recent awards and accreditations
Great Park Homecare is Berkshire's first home care provider to gain the national Good Business Charter accreditation, indicating our commitment to responsible business behaviour. This entails committing to 10 components: real living wage, fairer hours and contracts, employee well-being, employee representation, diversity and inclusion, environmental responsibility, paying fair tax, commitment to customers, ethical sourcing, and prompt payment.
The Good Business Charter is an accreditation which organisations in the UK can sign up to in recognition of responsible business practices.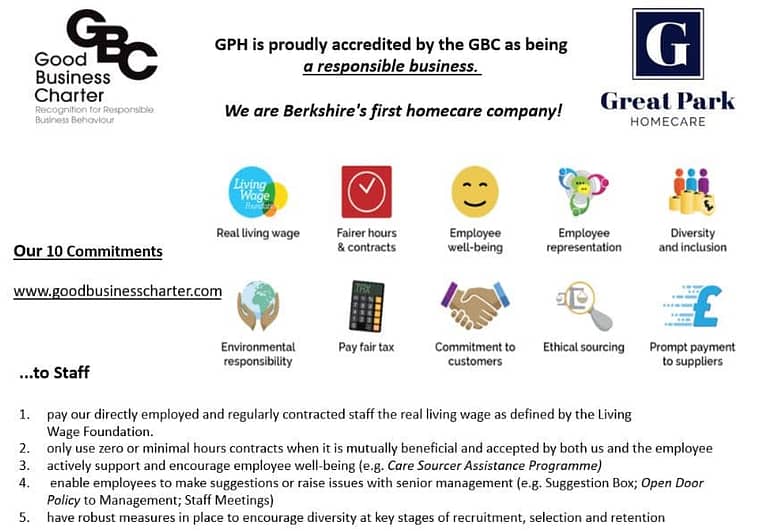 Our promises and commitments through GBC
Real Living Wage
The Real Living Wage is a UK wage rate that is voluntarily paid by UK businesses who believe their staff deserve a fair day's pay for a hard day's work. We promise to pay the real living wage to all our directly employed staff, have a plan to pay any contractors a living wage and we understand that fair pay means the difference between existing and living life.
Fairer Hours & Contracts
Being GBC accredited requires us to have a fair approach to zero or minimal hours contracts, including fair shift scheduling and cancellation policy, and proper consideration given to contracts to our staff with guaranteed hours.
Employee Well-being
The GBC requires us to have clear, fair and transparent staff policies and Employee Assistance Programme that support and encourage employee well-being and ban unreasonable penalties for legitimate sickness.
Employee Representation
GBC certified members require all employers to engage with worker representatives and to ensure there is a voice that represents employees around the boardroom table.
Diversity and Inclusion
The GBC requires business members to evidence how they monitor the diversity of their workforce and their commitment to close the disability, gender and ethnicity pay gaps. We are proud of our diverse and inclusive workforce.
Environmental Responsibility
All GBC members commit to an environmental policy to demonstrate they are committed to reducing their environmental impact and continually improve their environmental performance.
Pay Fair Tax
As a GBC business, we commit to paying staff taxes, not engaging in tax avoidance and commit to being transparent in our relationship with HMRC.
Commitment to Customers
The GBC requires its businesses to publish their commitment to their client/customers on their website. Businesses will be expected to gather and monitor customer feedback and report the results to their board.
Ethical Sourcing
The GBC requires businesses to commit to the standards set out in the Ethical Trading Initiative Base Code for sourcing through a process of continuous due diligence.
Prompt Payment to Suppliers
Compliance with the principles of the Prompt Payment Code Compliance is monitored and enforced by a Board. The Code covers prompt payment, as well as wider payment procedures. Code signatories undertake to pay suppliers on time, give clear guidance to suppliers and encourage good practice.
Are you looking to find a rewarding career in the caring sector? To find out what roles there are and how these roles will bring you job satisfaction, read our article: Finding work in the caring sector.
Looking for accredited home care services?
We are a care company with a heart, offering high-quality care to many adults in our local area in their homes, enabling them to live their lives to the full. This includes social care for older people and younger loved ones, who need care but wish to remain in their own homes where they will be in the safe hands of our professional care assistants.
Whatever a client's care needs, our Great Park Homecare carers can be trusted to be highly trained, discreet, helpful and professional always. We are members of the Care Quality Commission offering a wide range of flexible care packages for the following services:
| | |
| --- | --- |
| Personal Care | Household & Domestic |
| Companionship | Live-in Care |
| Personal Assistant Service | Free Homecare Advisory Service |
| Respite Care | Overnight Care |
| Dementia Care | Palliative Care |
Do we serve your area?
Areas we serve are Windsor, Old Windsor, Ascot and surrounding areas including Bray, Datchet, Dorney, Englefield Green, Eton, Eton Wick, Great Park, Winkfield and Windsor.
"Staff are key to the business' success, so we very much consider them as part of our 'family' and our customers too", says Director and Owner, Romola.
Thinking of working for Great Park Homecare?
If you want to feel the awarding benefits of caring for someone as part of a career, join us at Great Park Homecare, accredited for investing in and respecting their staff. We know that delivering live in care can be very rewarding – as the professional relationship builds, very close bonds are often forged between carers and their clients, bringing greater levels of trust and peace of mind.
We welcome anyone wishing to work only evenings and weekend shifts. Full-time or part-time. No experience is required. All training will be given. £200 Onboarding Bonus available.
No previous care experience is necessary because, as one of our dedicated team of carers, you will be robustly trained and developed in-house by our Management Team. We always support the right candidates on their journey to a fulfilling and future-proof career. All staff have full managerial and peer mentor support, so you will always feel part of the care team and wider company's family.
Please call 01753 369088 or visit our website for more information on working for Great Park Homecare in Berkshire and how to apply for your fast-track interview. We are proud to be Berkshire's first home care provider to gain the national Good Business Charter accreditation.