Recent awards and accreditations
Great Park Homecare is extremely proud to be honoured as Berkshire's first homecare provider accredited as a Living Wage Employer. "For Adrian and I, it was the first thing we committed to as an employer when founding the company so we are extremely proud of the Living Wage Employer accreditation.", says Director and Owner, Romola.
To be an accredited Living Wage Employer means we are one of 10,000 UK employers committed to fair pay for a fair day's work. We promise to always pay the real living wage to all our directly employed staff, have a plan to pay any contractors a living wage and we understand that fair pay means the difference between existing and living a life.
When a working person's income, after housing costs, is less than 60% of the national average, they don't earn enough to meet the cost of living – they are living in poverty known as In-work Poverty.
What is the living wage and how is it calculated?
Paying the real Living Wage is an hourly rate of pay set independently, updated annually, and paid voluntarily by responsible employers. It provides a benchmark for any responsible employer who chooses to pay their employees a rate that meets the basic cost of living across the UK and London.
The current Living Wage rates are £9.90 per hour across the UK, or £11.05 is the Living Wage City/London rate (May 2022). The Living Wage rate is set higher than the government's National Minimum Wage rates, including the minimum wage rate for over-23s, called the 'National Living Wage', because it is calculated according to the cost of living.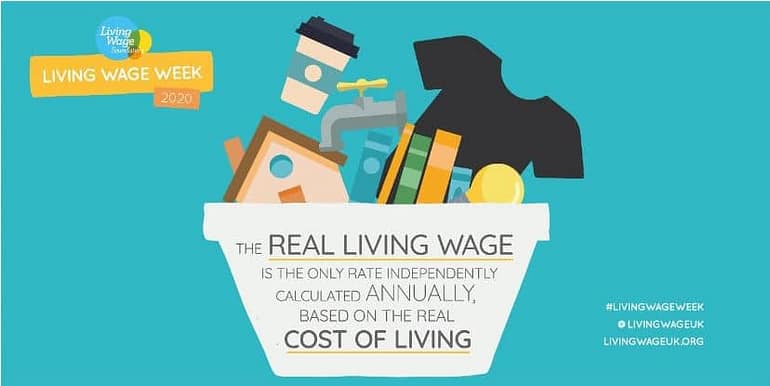 The rates for each coming year are announced on the 15th of November of the current year. Accredited Living Wage Employers should implement the pay rise as soon as possible, within 6 months, with employees receiving the new rates by the 15th of May of the preceding year. The Living Wage applies to all directly employed staff over the age of 18, regardless of the number of hours they work.
Are you looking to find a rewarding career in the caring sector? To find out what roles are there in the caring sector, and how these roles will bring you job satisfaction, read our article: Finding work in the caring sector.
What is the accreditation process?
The accreditation process involved us signing a licence between the Living Wage Foundation and us as the responsible employer. By engaging in the process, we had to confirm that we fully understand the requirements of being a Living Wage Accredited Employer, and we have now been welcomed to their network, so it's time to celebrate our commitment!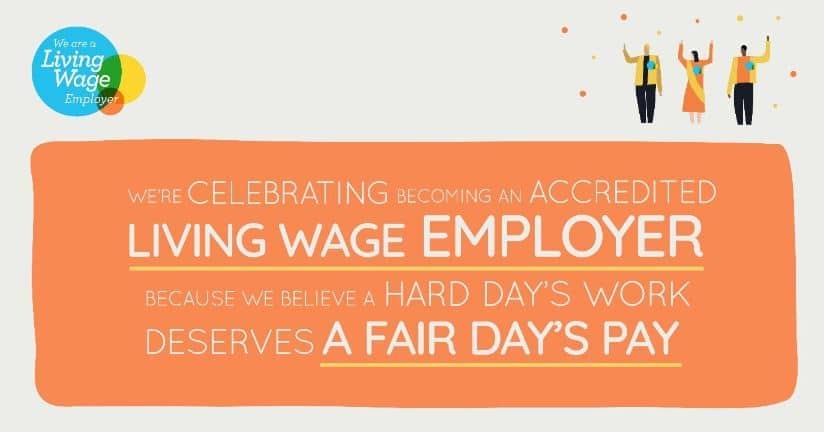 Working for Great Park Homecare just got better!
Not only is Great Park Homecare a place where you'll find gratifying work as a care worker, but you will always be remunerated with a fair day's pay, plus we support all our staff to excel, grow and develop in their roles. You will have a career and role that is always in demand, securing you a great future, with a career path and opportunities to grow professionally, are limitless.
If you want to feel the rewarding benefits of caring for someone as part of your career, join us. We especially welcome anyone wishing to work only evenings and weekend shifts. No experience is required. A £200 Onboarding Bonus and training is available.
Delivering live in care can be very rewarding, since, as the professional relationship builds, very close bonds are often forged between carers and their clients, bringing greater levels of trust and peace of mind. It is a truly rewarding role, to support people to live independently and happily in their own homes.
No previous care experience is necessary because as one of our dedicated team of carers, you will be robustly trained and developed in-house by our Management Team. We always support the right candidates on their journey to a fulfilling and future-proof career, so anyone can join us from any sector. All staff have full managerial and peer mentor support, so you will always feel part of the friendly care team and wider company's family.
The care you can help us offer
We are a home care company with a heart, offering homecare to many people in our local area, granting peace of mind for loved ones, who will be in the safe hands of our professional care assistants. Whatever a client's care needs, our Great Park Homecare carers can be trusted to be highly trained, discreet, helpful and professional always. We offer the following home care services:
| | |
| --- | --- |
| Personal Care | Household & Domestic |
| Companionship | Live-in Care |
| Respite Care | Overnight Care |
| Dementia Care | Palliative Care |
| Personal Assistant Service | Free Homecare Advisory Service |
Do we serve your area?
Areas we serve are Windsor, Old Windsor, Ascot and surrounding areas including Bray, Datchet, Dorney, Englefield Green, Eton, Eton Wick, Great Park, Winkfield and Windsor.
Join us if you want to feel the rewarding benefits of caring for someone as part of your career or to achieve a better work-life balance. Caregiving roles take many different shapes and forms, usually assisting seniors or other adults with disabilities or illnesses who are unable to live independently.
Please call 01753 369088 or visit our website for more information on fair pay and benefits and how to apply for your fast-track interview.